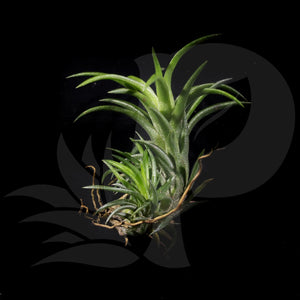 T. neglecta clump
The Tillandsia neglecta clump is the usual neglecta but with an offset. The leaves are thick and lime green in color. They grow upright but extend outwards at the tips, especially at the top area where the leaves are completely spread out. Its offset is attached to the base where it is settled and looks like an adorable miniature version of the parent plant. The inflorescence towers above the leaves, the baby pink bracts extend outwards, and petite indigo flowers bloom amongst the said bracts. This piece has a subtle elegance and can be placed amongst various other plants and decorations. 
Suggest growing condition
Airflow: Moderate
Light: Shaded bright light to Bright light
Water: At least once every 2 days
Remarks: 

*Watering frequency is determined by growing environment.
https://pick-a-plant-online.myshopify.com/pages/airplant-care-guide
* Please note that prices may vary at our retail outlets and nursery. Online purchases will follow the prices stated online. Thanks for your understanding.