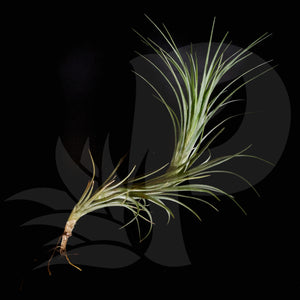 T. araujei Closed form
Regular price $16.00 Sale
The Tillandsia araujei closed form is one of several variants of the tillandsia araujei which all have similarly long and rigid leaves. What separates this from the other variants is that it has longer, thin and less stiff leaves. These leaves extend in a general direction, initially, then the tips extend randomly outwards, and they are light green in color; it produces flower bracts that are rose in color and blooms paper white flowers. This plant's spikey looking leaves make it look aggressive, contrasting its beautiful and gentle flowers with conspicuous bracts that have a lovely rose color. Its leaves, bracts and flowers make up a wonderful blend that is both attractive and compelling, which can certainly boost the ambiance of any particular place.
Suggest growing condition
Airflow: Good
Light: Bright light to Direct morning sunlight 
Water: At least once every 2 days
Remarks: 

*Watering frequency is determined by growing environment.
https://pick-a-plant-online.myshopify.com/pages/airplant-care-guide 
* Please note that prices may vary at our retail outlets and nursery. Online purchases will follow the prices stated online. Thanks for your understanding.