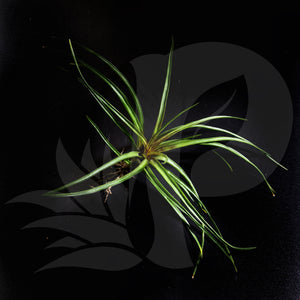 T. cyanea (small)
It is also known by many plant collectors and enthusiasts as the "Pink Quill", this is an incredibly stunning species. The plant is a lime green color, and the leaf blades are rather slender and of uniform length. The leaves are spread out, creating a space in the center for its gorgeous inflorescence to emerge. The Tillandsia cyanea is admired by many due to its unique inflorescence; it is large, wide, and can be various shades of pink. Then, deep lavender-colored flowers bloom at the sides, but they are not the usual tubular shape, instead, they are large and look like butterflies that are resting on the plant. The plant has a very sweet and vibrant color scheme, and its inflorescence is definitely the focal point. This is a species that can never go unnoticed.
Suggest growing condition
Airflow: Moderate
Light: Bright light
Water: At least once every 2 days
Remarks: Can be potted

*Watering frequency is determined by growing environment.
https://pick-a-plant-online.myshopify.com/pages/airplant-care-guide
* Please note that prices may vary at our retail outlets and nursery. Online purchases will follow the prices stated online. Thanks for your understanding.