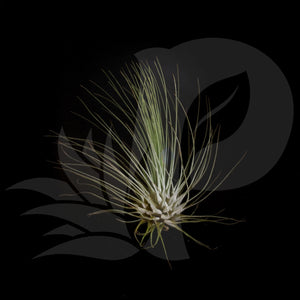 T. fuchsii v. gracilis
This air plant can be found in Guatemala and Mexico, it is a pale green color with very fine leaves that are as thin as wire. The leaves that grow around the plant's base are rather short, but the ones on top are long, straight, and are of uniform length, growing upwards. The plant has a somewhat circular structure, and it grows a towering inflorescence that is also very thin.  Although its leaves are pale, the inflorescence consists of bracts that are a very vibrant fuchsia color, and stamens that are yellow and light green emerge from the center of flowers that are a brilliant purple. This species is simple, but has a pop of color, perfect for collectors or homeowners who are looking for something toned down, yet still beautiful.
Suggest growing condition
Airflow: Moderate
Light: Bright light to Direct morning sunlight
Water: At least once every 2 days
Remarks: 

*Watering frequency is determined by growing environment.
https://pick-a-plant-online.myshopify.com/pages/airplant-care-guide
* Please note that prices may vary at our retail outlets and nursery. Online purchases will follow the prices stated online. Thanks for your understanding.