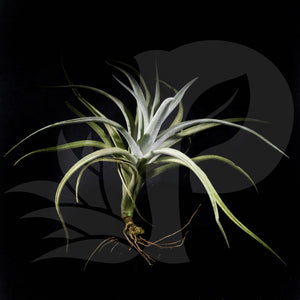 T. harrisii (small)
This species has elongated leaves at the bottom that have a pale green color, and shorter ones on top that have more visible hints of silver. These tapered leaves extend out and droop downwards with a slight curve, ending in spiky tips. When its blooming period approaches, the plant's leaves start to blush ever so slightly as the large inflorescence rises up from the center. The towering inflorescence can be various shades of red, and flowers that are the usual deep violet color bloom out of its bracts. This grand species is one that will surely stand out or draw in lots of attention even when placed amongst other plants.
Suggest growing condition
Airflow: Moderate
Light: Shaded bright light to Direct morning sunlight
Water: At least once every 2 days
Remarks: 

*Watering frequency is determined by growing environment.
https://pick-a-plant-online.myshopify.com/pages/airplant-care-guide
* Please note that prices may vary at our retail outlets and nursery. Online purchases will follow the prices stated online. Thanks for your understanding.